A natural paradise on the shore of the LAGUNA BACALAR with friendly service to make you feel at home
We provide:
Internet
Free internet for our customers, at reception.
Transportation
We can collect you from the airport or bus terminal for an additional cost.
Special Activities
Want to surprise your partner with a special detail? Ask us and we'll be happy to help.
Nearby places you should check out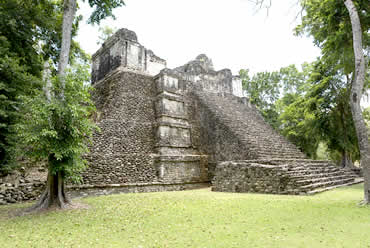 Kinichná
Kinichna means "house of the sun" in Maya.The Kinichna archeological site is located in southern Quintana Roo. Located to the northwest of the city of Chetumal, the state capital, it forms part of the Dzibanche-Kinichna complex.
Dzibanché
The Dzibanche-Kinichna complex is in a transition zone between the low forest found in the northern section of the Yucatan peninsula and the rainy tropical forest of the Petén.
.
Kohunlich Archaeological Site
Kohunlich is the name of a Mayan city and ceremonial center located approximately 40 miles from Chetumal, Quintana Roo, in the Rio Bec region. It is very close to the Mexico-Belize border.
Tour Colectivo: Discovery Full

Tour Colectivo Discovery Full